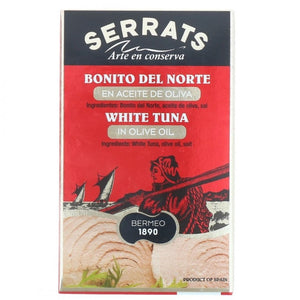 Serrats White Tuna in Olive Oil
The White Tuna (Albacore) or "Thunnus Alalunga" is captured, one by one, in the Gulf of Biscay and in the best moment of the season respecting the traditional fishing tackle. Because its aroma, its refined taste, its smooth white meat and its properties, White Tuna (Albacore) composes the elitist range of the tuna fish.
The White Tuna (Albacore) fillets "Cogote" in the glass jar RO-400, contains exclusively the upper part of the White Tuna (Albacore) loins.
This part along with the "Ventresca" fillets (belly) is the most appreciated parts of the fish due to the softness and tastiness of their textures. Once the loins are carefully cleaned, one by one, are introduced manually in the glass jar. Then the "Cogote" fillets are covered with specially selected olive oil.
This olive oil, with its intense flavour, adds a unique and exclusive aroma and taste to the White Tuna (Albacore) which reminds to the flavour of the sea and the sun dried fields.
---