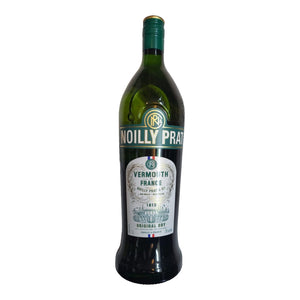 Noilly Prat Dry Vermouth
Noilly Prat Dry Vermouth is a premium French vermouth that is made from a blend of dry white wines that are infused with a selection of herbs and spices, including chamomile, coriander, and bitter orange peel. It is produced by the Noilly Prat distillery in the Languedoc-Roussillon region of France, and is widely considered to be one of the best dry vermouths available.
It has a light golden color and an aroma of herbs and spices, with notes of white wine and a subtle hint of bitterness. On the palate, it has a dry and crisp texture with a complex and well-balanced flavour of herbs, spices, and white wine, followed by a subtle bitterness and a touch of sweetness. The finish is long and refreshing, with a pleasant herbal aftertaste.
It is an essential ingredient in classic cocktails such as the Martini and the Manhattan, and can also be enjoyed on its own over ice as an aperitif.
Best stored in the refrigerator and consumed within a few weeks of opening to ensure maximum freshness and flavour.
---