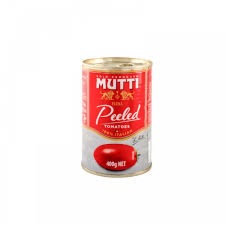 Mutti Whole Peeled Tomato
Mutti® Whole Peeled Tomatoes (Pelati) are plump, firm and versatile. These sun-ripened 100% Italian tomatoes have a rich flavor, dense texture, and bright red color. With only tomatoes and tomato juice, no additives or preservatives, they break down quickly when cooked.

They are ideal for a wide range of recipes, from soups to stews to sauces. Use them in marinara sauce, on Neapolitan pizza, or in an anytime BLT.
---