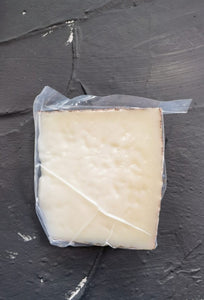 Manchego Aged 5-6 Months
Manchego is a type of cheese made from sheep's milk, originating from the La Mancha region of Spain.
Manchego cheese that has been aged for 5-6 months is considered a young variety. It has a smooth, firm texture and a mild, slightly salty flavor with hints of butter and nuts. The aging process allows the cheese to develop a natural rind and a slightly deeper flavor than fresher cheeses.
Young Manchego cheese is often used as a table cheese and is perfect for snacking, grating, or slicing for sandwiches.
It also pairs well with fruits, crackers, and nuts, as well as light-bodied red or white wines.
---