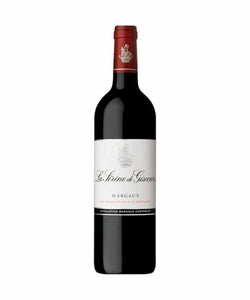 La Sirène de Giscours, Margaux 2018 (Magnum)
Rich and complex flavour profile
La Sirène de Giscours is the second wine of Chateau Giscours, a well-known winery located in the Margaux appellation of Bordeaux. The 2018 vintage is a blend of 60% Cabernet Sauvignon, 27% Merlot, 10% Cabernet Franc, and 3% Petit Verdot. Here are some tasting notes for La Sirène de Giscours, Margaux 2018:
Appearance: The wine has a deep, ruby color with purple hues.
Nose: On the nose, there are aromas of blackcurrant, blackberry, and raspberry, as well as hints of vanilla, tobacco, and a touch of spice.
Palate: The wine is medium-bodied with firm tannins and a good acidity. Flavors of dark fruit dominate, with notes of cocoa, coffee, and a hint of oak. The finish is long and persistent, with a touch of minerality.
Overall, the La Sirène de Giscours, Margaux 2018 is a well-structured and balanced wine with good aging potential. It can be enjoyed now, but will also benefit from several years of cellaring to fully develop its complexity and depth. As a second wine, it is a more affordable and accessible option compared to the flagship wine of the estate.
---