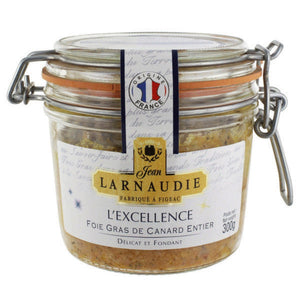 Jean Larnaudie Foie Gras Terrine in Glass Jar
This luxurious dish is a classic of French cuisine. The word terrine refers to the pot in which it is cooked—an earthenware cooking dish with a tightly fitting lid. A sure crowd pleaser.
Deliver chilled: 125gm Glass Jar 
Shelf life: Expiry date stated on jar. Once open consumed within 24hrs
Storage: In the fridge between 2-4'c
Serving method: Served chilled. Best paired with crackers or bread.
---