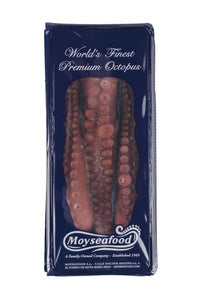 Octopus Legs (Frozen)
These wild caught pre-cooked Octopus legs are so easy to serve. Tender, juicy and tasty.
Sautéed Octopus Legs with Parma Ham Butter
Ingredients required
Octopus Legs

Olive Oil
Parma Ham Butter
Chopped Shallots
Chopped Garlic
Cherry tomato
Salt & Pepper
White Wine
Thaw octopus in the fridge.
Cut into chunks
Dab dry with a paper towel and season with salt & pepper.
Heat oil over high heat in a nonstick skillet. Once the oil is smoking, add octopus and cook till golden brown.
Remove from heat and place on a plate to rest.
Reduce heat to medium and wipe-out skillet with a paper towel.
Add parma ham butter, chopped shallots, chopped garlic, cherry tomato and cook just until fragrant, about 30 seconds.
Add white wine and cook until fragrance. Add octopus back to the pan and spoon sauce over top.
---