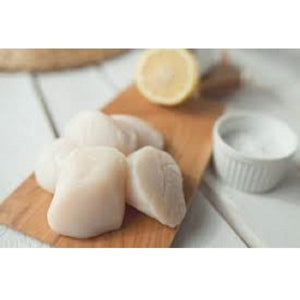 *Frozen* Hokkaido Scallops
Hokkaido scallops are a type of scallop that is prized for its sweet and delicate flavour, as well as its tender and succulent texture. These scallops are harvested off the coast of Hokkaido, Japan, which is known for its cold, nutrient-rich waters that produce some of the highest quality seafood in the world. Hokkaido scallops are typically larger than other types of scallops and have a slightly pinkish hue. When cooked, they are juicy and tender, with a slightly sweet and briny flavour that is truly delightful. These scallops are incredibly versatile and can be grilled, seared, or sautéed, and are often served with a variety of sauces and accompaniments.
Seared Scallops with Garlic Butter
Ingredients required
Scallops
Oil
Garlic Butter
Salt & Pepper
White Wine
Thaw scallops in the fridge.
Dab dry with a paper towel and season with salt & pepper.
Heat oil over high heat in a nonstick skillet. Once the oil is smoking, add scallops and cook 2-3 minutes or until golden brown.Flip scallops over and cook an additional 1-2 minutes or just until firm and browned.
Remove from heat and place on a plate to rest.
Reduce heat to medium and wipe-out skillet with a paper towel.
Add garlic butter and cook just until fragrant, about 30 seconds.
Add white wine and cook until reduced by half, about 2 minutes. Add scallops back to the pan and spoon sauce over top.
To note:
Ensure oil is hot and scallops are dry before going into the pan.
Do not move or stir them until they have a golden-brown crust.
Sea scallops will need anywhere from 3-6 minutes to cook. If they're on the smaller side, they'll need closer to 3 minutes. If they're larger, they might need closer to 6 minutes.
To tell if scallops are cooked they should be just opaque. The texture should be slightly firm but still tender. 
---