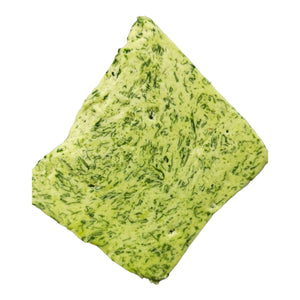 *Frozen*atout Speciality Garlic Butter
This is the best ever garlic butter, perfect on everything from potatoes to garlic bread. We love putting this homemade garlic butter on escargot, mashed potatoes,, steak, and even making garlic butter shrimp!
This legacy recipe passed down from Chef Patrick's Grandma is better than any garlic butter and is going to become a staple in your home!
Garlic butter is a delicious and versatile ingredient that can be used to add flavor and richness to many different dishes. Here are some ways to use garlic butter:
On bread: Spread garlic butter on freshly baked bread or toast for a quick and tasty snack.
Grilled or roasted vegetables: Toss roasted or grilled vegetables with garlic butter for a delicious and savory side dish.
Mashed potatoes: Add a spoonful of garlic butter to your mashed potatoes for a rich and flavorful side dish.
Seafood: Top grilled or baked seafood with garlic butter for a decadent and savory finish.
Pasta: Toss hot pasta with garlic butter and freshly grated Parmesan cheese for a simple and satisfying meal.
Steak: Top grilled or pan-seared steak with garlic butter for a rich and flavorful finish.
Soups and stews: Stir garlic butter into your favorite soups or stews for a rich and savory flavor.
Overall, garlic butter is a versatile and delicious ingredient that can be used in many different ways to add flavour and richness to your favourite dishes. Try experimenting with it in your cooking to discover new and delicious ways to enjoy it.
*Best kept frozen
---