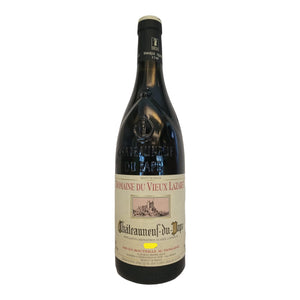 Domaine du Vieux Lazaret, Chateauneuf-du-Pape 2020
Dark fruits and spices flavour profile
A red wine blend typically made from several grape varieties, including Grenache, Syrah, Mourvèdre, and others permitted in the appellation.
Known for their rich and complex flavors, with notes of red and dark fruits, herbs, spices, and a distinctive minerality. A deep ruby color in the glass, with aromas of ripe red fruits, such as cherry and raspberry, as well as hints of spices, such as black pepper and cinnamon, and a touch of earthiness. On the palate, it is full-bodied and well-structured, with rich and concentrated flavors of dark fruit, such as blackberry and plum, as well as notes of herbs and spices. The wine typically has firm tannins and a long, persistent finish.
Pairs well with a variety of hearty dishes, such as roasted meats, stews, and strong cheeses.
---