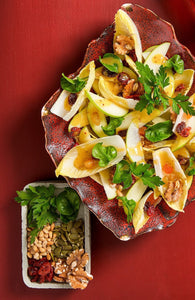 Crunchy Belgium Endives with Dried Fruits, Mixed Nuts & Mixed Greens
A great comfort salad. Mixed with all kind of nuts, dried fruits and vinaigrette.
Deliver chilled: In a takeaway box, vinaigrette on the side.
Shelf life: 2 days from delivery date, store in the fridge at 0°C to 3°C
Weight: 300g
Serving size: 1 to 2 pax
Ingredients: Endive, walnuts, green apple, raisins, pumpkin seeds, pine nuts, vinaigrette.
Serving method: Put the salad in bowl, sprinkle some salt, black pepper, and toss with the vinaigrette to taste.
---