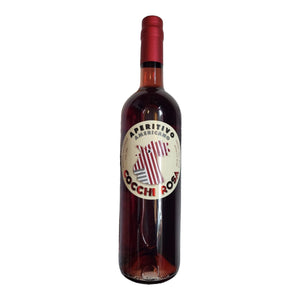 Cocchi Americano Rosa (Italy)
The Americano Cocchi is an aromatized wine, conceived by Giulio Cocchi in 1891 and since then produced continuously according to the original recipe.
For its aroma given by alcohol "amaricato" with herbs and spices it is called American, also because the custom of drinking vermouth with ice and soda spread from the United States.

The Americano Cocchi produced according to the original recipe of Giulio Cocchi is, for Asti, the aperitif par excellence, a piece of the history of the city.
It carries on the label the original Futurist cockerel designed in the 1930s, which represents both its function as an aperitif ("it awakens the appetite"), and one of the symbols of the city of Asti.

During its history, Cocchi has produced some variations of its American Aperitif. The most recent, Cocchi Rosa is produced from a base of red wines from Piedmont to which extracts of herbs and spices are added, in particular gentian, cinchona, citrus peel and rose petals.

---