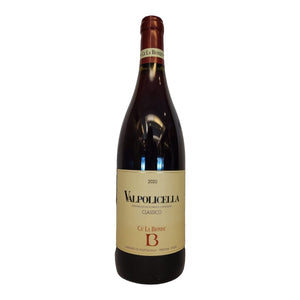 Ca'La Bionda Valpolicella Classico 2020
 Bright and fresh flavour profile
Made from a blend of grapes, including Corvina, Corvinone, and Rondinella, which are grown in the Valpolicella region of northeastern Italy. The grapes are carefully selected and harvested by hand before being fermented in stainless steel tanks and aged in large oak barrels for a few months.
A bright ruby red colour, with aromas of fresh red berries, such as raspberries and cherries, along with hints of floral notes.
On the palate, Ca'La Bionda Valpolicella Classico 2020 is light and refreshing, with a lively acidity and a fresh and fruity flavor profile that includes notes of cranberry, cherry, and a subtle hint of spices.
The wine has a smooth and easy-drinking texture, with soft tannins and a crisp finish. Pairs well with a variety of lighter dishes, such as grilled fish, pasta with tomato sauce, or pizza. 
---