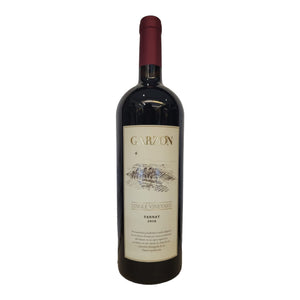 Bodega Garzon Single Vineyard Tannat 2019
Black fruits and complex flavour profile
Tannat is the flagship grape of Uruguay, and this wine is made entirely from Tannat grapes grown in a single vineyard.
The wine has a deep, dark ruby color with purple hues. On the nose, it offers intense aromas of ripe black fruits such as blackberry, black cherry, and plum, along with hints of vanilla, spices, and tobacco. On the palate, it is full-bodied, with a rich and complex flavour profile characterised by notes of black fruit, chocolate, coffee, and a touch of smokiness.
The tannins in this wine are firm but well-integrated, providing a smooth and long finish. The acidity is well-balanced, contributing to a lively and refreshing sensation in the mouth. The wine has been aged for 12 months in French oak barrels, adding complexity and depth to the flavour and aroma profile.
A great choice for anyone who enjoy full-bodied red wines with bold flavours and a hint of elegance.
---