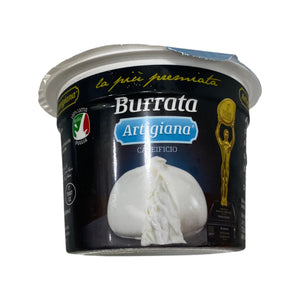 Artigiana Burrata (125gm per Pcs)
Burrata means 'buttered' in Italian, it is a fresh artisanal cheese from Puglia, made from cow milk mozzarella and cream with a solid silky outer shell and soft creamy center. La burrata de Caseificio Artigiana has been elected product of the year 2011 by the Cheese of the Year contest.
When the Burrata is sliced open, ritagli-thickened panna (cream) flows out. The flavour and different textures of the inside and outside make it go well with salad, prosciutto crudo, crusty bread, fresh tomatoes with olive oil and cracked black pepper or pasta.
---