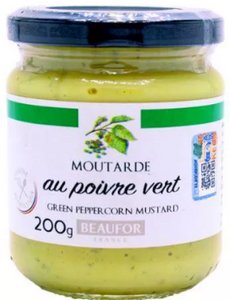 Beaufor Moutarde Green Peppercorn Mustard
Moutarde de Dijon is a traditional French mustard characterized by its pale yellow color and a creamy texture. It is usually made from ground brown or black mustard seeds, salt, and various spices. Although it could only be produced in the Dijon region of France in the past, today the term Dijon mustard has become so popular that any mustard using the traditional Dijon recipe can be named Dijon mustard.

The original recipe was created by Jean Naigeon, a mustard producer who first started to use vinegar instead of the juice of unripe grapes (verjus) in its production. It is often used as a unique accompaniment to numerous chicken, beef, and salmon dishes, as well as being a flavorful dressing for hamburgers, hot dogs, and salads.
---