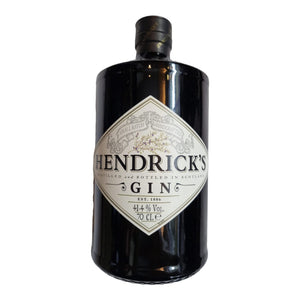 Hendrick's Gin
Hendrick's Gin is a premium gin produced by the Hendrick's distillery in Girvan, Scotland. It is made using a unique blend of botanicals, including juniper, coriander, angelica root, and orris root, as well as cucumber and rose petals, which gives a distinctive flavour and aroma.

Hendrick's Gin has a clear, crisp appearance and an aroma of juniper, citrus, and floral notes, with a subtle hint of cucumber. On the palate, it has a smooth and balanced flavor with a citrusy and floral character, followed by a hint of pepper and a cooling sensation from the cucumber. It has a long and refreshing finish, with a slight sweetness and a hint of spice.

Best enjoyed in a classic gin and tonic, with a slice of cucumber as a garnish. It can also be used in a variety of cocktails, such as the martini or the negroni.
---