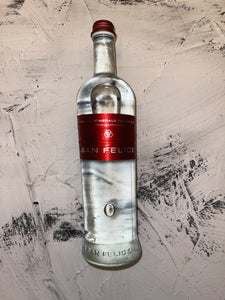 San Felice Sparkling Water
 Nestled among the Apennines in the Abetone mountains, immersed in a pristine forest with beds of ancient ferns, there is a spring from which flows a pure, light water which, before coming to the surface, has flowed through a complex underground network of streams in the sandstone rock that typifies this MOUNTAIN area.
In this magic and ancient territory, Acqua di Toscana San Felice is born, emerging from a narrow gap in the rocks that enrich it with particular properties, giving it a unique chemical composition which is a perfect balance of mineral salts and an EXCELLENT light pure flavour.
Acqua di Toscana San Felice is bottled directly at the source in order to preserve all of its intrinsic elements, which were already known about at the ancient time of the Etruscans – who extolled its lightness and purity, as well as its extraordinary draining properties. Acqua di Toscana San Felice is a genuine source of well-being, a natural treatment for body and spirit.
---