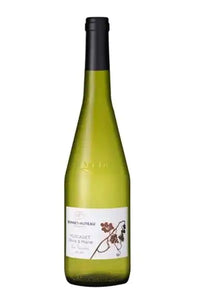 Bonnet-Huteau, La Levraudiere Muscadet
Crisp and fresh flavour

 profile

Made from 100% Melon de Bourgogne grapes, which are grown in the Loire Valley region of France. The grapes are carefully selected and harvested by hand before being fermented in stainless steel tanks and aged on lees for six months.

The wine is of pale yellow color, with aromas of citrus fruit, such as lemon and grapefruit, along with floral and mineral notes. On the palate, it is light-bodied and well-balanced, with a flavour profile that includes tart citrus fruit, subtle mineral, and a hint of salinity. The wine has a crisp acidity and a refreshing finish.

Pairs well with a variety of seafood dishes, such as oysters, clams, and shrimp, as well as salads and light appetizers. 
---