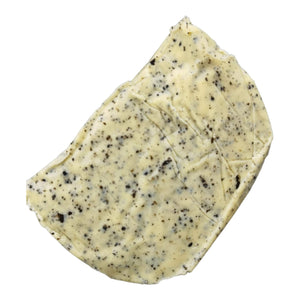 atout Speciality Semi-Salted Truffle Butter (Frozen)
Semi-Salted Truffle Butter
 The dream association of the truffle and butter! A marriage of the best of both worlds. Made with probably the best black truffles from Italy and probably the best butter from France. A uniquely Atout creation.
Truffle butter is a delicious and luxurious ingredient that can be used to add rich and earthy flavor to a variety of dishes. Here are some ways to use truffle butter:

On toast or bread: Spread truffle butter on toast or freshly baked bread for a quick and indulgent snack.

Mashed potatoes: Add a dollop of truffle butter to your mashed potatoes for a rich and flavorful side dish.

Pasta: Toss hot pasta with truffle butter and freshly grated Parmesan cheese for a simple and satisfying meal.

Grilled meats: Top grilled steaks or chicken with a pat of truffle butter for a decadent and flavorful finish.

Scrambled eggs: Add a small amount of truffle butter to scrambled eggs for an indulgent and delicious breakfast.

Risotto: Add truffle butter to your risotto during the final stages of cooking for a rich and earthy flavor.

Popcorn: Melt truffle butter and drizzle it over freshly popped popcorn for a gourmet snack.

Vegetables: Toss roasted or sautéed vegetables with truffle butter for a decadent side dish.
*Best kept frozen
---