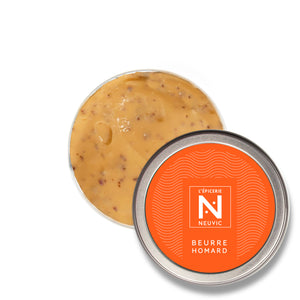 Caviar de Neuvic Lobster Butter (Frozen)
Caviar de Neuvic Lobster Butter is a luxurious gourmet product that combines the rich, briny flavor of caviar with the delicate sweetness of lobster meat. This butter is made by blending fresh, high-quality lobster meat with rich, creamy butter and sturgeon caviar from the Neuvic Caviar House in France.
The result is a decadent and savory spread that is perfect for adding a touch of luxury to any meal. The lobster butter has a smooth and creamy texture that spreads easily, making it perfect for use as a flavorful ingredient in sauces, dressings, and dips. It can also be used as a gourmet topping for freshly baked bread or crackers.
Caviar de Neuvic Lobster Butter is a perfect accompaniment to seafood dishes, but it also pairs well with other flavors such as roasted vegetables, grilled meats, and pasta dishes. Its rich and complex flavor profile makes it a perfect addition to any special occasion or celebration.
---