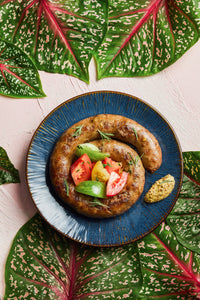 Char-Grilled Toulouse Pork Sausage
Toulouse sausage is a type of French sausage that is known for its rich and hearty flavour, which comes from a blend of ground pork, sea salt and black pepper.  Made with no preservatives nor nitrates.

When cooked on a barbecue, the Toulouse sausage develops a deliciously crispy exterior while remaining juicy and tender on the inside. This sausage is perfect for summer barbecues or outdoor gatherings, and pairs well with a variety of sides, such as grilled vegetables, corn on the cob, or a fresh salad.
Delivered: Hot and ready to eat
Shelf life: 4 hours from delivery 
Serving: 2 - 3 pax
Ingredients: Pork, sea salt, black pepper
---