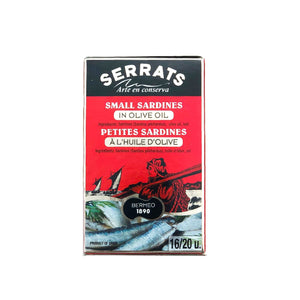 Serrats Small Sardines In Olive Oil
Flavorful and tender Spanish sardines in olive oil from the Bay of Biscay, Spain.
The best and freshest sardines are quickly cleaned by hand, steamed and packed in premium olive oil, all done in the minimum of time from capture, to preserve the flavor and texture of the fish.
Soft, juicy, delicious, these canned sardines for sale are perfect as a snack with crusty bread, tossed in pasta or salads, or used to top pizzas.
---