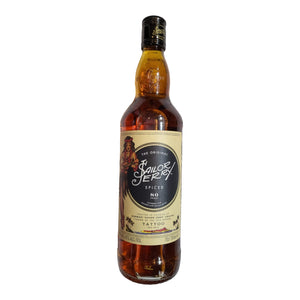 Sailor Jerry Spiced Rum
Sailor Jerry Spiced Rum is a blended rum that is produced in the Caribbean and named after Norman "Sailor Jerry" Collins, a famous American tattoo artist. Made from a blend of Caribbean rums that have been aged in oak barrels and infused with a blend of spices.

It has a dark amber color and an aroma of vanilla, cinnamon, and nutmeg, along with notes of brown sugar and caramel. On the palate, it has a smooth and creamy texture with flavours of vanilla, cinnamon, and clove, followed by a subtle hint of oak and a touch of sweetness. The finish is long and warming, with a pleasant spiciness and a subtle sweetness. It has a complex and well-balanced character, with a good balance between sweetness and spiciness.
Best enjoyed in cocktails, such as the classic rum and coke, or in a variety of mixed drinks, such as the Mai Tai or the Mojito.
---