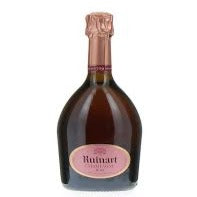 Ruinart Brut Rose
Fruity and refreshing flavour profile
Made with a blend of Chardonnay and Pinot Noir grapes, with a slightly higher proportion of Pinot Noir, which gives the champagne its distinct pink color.
It has a delicate and elegant aroma of red berries, including raspberries and strawberries, with a subtle hint of spice and a touch of citrus. On the palate, it has a crisp and refreshing texture with flavours of red berries, cherries, and a hint of brioche. The bubbles are fine and persistent, giving the champagne a lively and effervescent character. The finish is long and refreshing, with a subtle sweetness and a hint of mineral. It has a well-balanced and refined character, with a good balance between fruitiness and acidity, making it a versatile champagne.
Pairs well with a variety of dishes, such as seafood, poultry, and desserts.
Best served chilled and can be enjoyed on its own or as an aperitif before a meal.
---