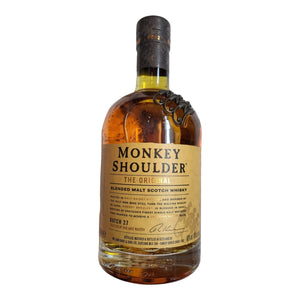 Monkey Shoulder Blended Malt Scotch Whisky
Monkey Shoulder Blended Malt Scotch Whisky is a blended malt whisky that is produced by William Grant & Sons in Scotland. It is made from a combination of three single malt whiskies from Speyside, and is named after a condition that can occur in malt whisky production, where the distillers have to manually turn the barley with a wooden shovel, which can cause injury to the shoulder.
Monkey Shoulder has a light golden color and an aroma of vanilla, honey, and spices, with a hint of oak. On the palate, it has a smooth and creamy texture with flavours of toffee, butterscotch, and cinnamon, followed by a subtle hint of smoke and a touch of sweetness. The finish is long and warming, with notes of oak and a slight spiciness. It has a well-balanced character, with a good balance between sweetness and spiciness.
Best enjoyed neat or on the rocks, and it pairs well with savoury dishes, such as grilled meats or cheeses. It can also be used in a variety of cocktails, such as the Old Fashioned or the Manhattan.
---