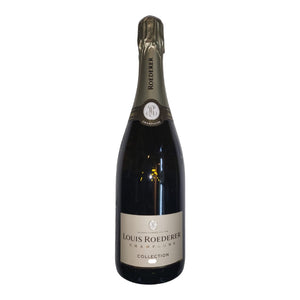 Louis Roederer Collection 243 Brut NV
Full-bodied and complex flavour profile

Made from a blend of reserve wines, which are aged for a minimum of six years in oak casks before being blended with the current vintage.
On the nose, it is characterised by aromas of citrus fruits, white flowers, and a hint of toasted bread. On the palate, the wine is full-bodied and complex, with a fine and persistent mousse, a lively acidity, and flavors of ripe fruit, toasted nuts, and a touch of mineral. The finish is long and elegant, with a delicate balance between fruit, acidity, and oak.
Pairs well with a wide range of foods, including seafood, poultry, and richer pasta dishes, and is also a great wine to enjoy on its own as an aperitif or with a cheese course.
---