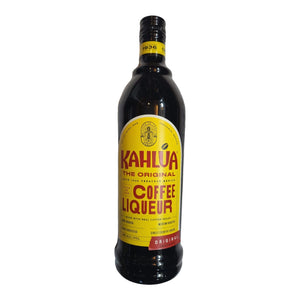 Kahlua Coffee Liqueur
Kahlua Coffee Liqueur is a sweet and smooth liqueur made from 100% Arabica coffee beans, sugar, vanilla, and other natural flavors. It originated in Mexico and is a popular ingredient in a variety of cocktails and mixed drinks.

Kahlua has a dark brown color and a sweet aroma of coffee, caramel, and vanilla, along with a hint of chocolate. On the palate, it has a smooth and creamy texture with flavors of coffee, chocolate, and a subtle hint of vanilla. The finish is long and sweet, with a pleasant warmth and a slight bitterness from the coffee.

A popular and versatile ingredient in mixed drinks and cocktails. It is often used as a sweetener or flavour enhancer in coffee drinks, such as the White Russian or the Espresso Martini.
It can also be enjoyed on its own over ice or with a mixer of your choice.
---