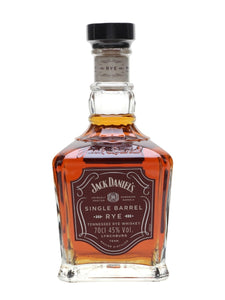 Jack Daniel's Single Barrel Rye
Single Barrel Tennessee Rye Whiskey draws its wonderful flavor from a unique 70% rye grain bill, matured to perfection in our handmade oak barrels, positioned in the upper reaches of our barrelhouses.
Bottled at 94 proof, this is a big, bold rye that does not overpower. Complex flavors of ripe fruit mingle with light toasted oak notes, allowing the rye grain to shine through, creating a taste rich with spice and a pleasant lingering finish.
Nose : Hazelnut and almond, spicy grain and an underlying hint of corn.
Taste : This well-rounded rye whiskey brings out sweet caramel and dry baking spice.
Finish : Pleasant lingering finish.
---