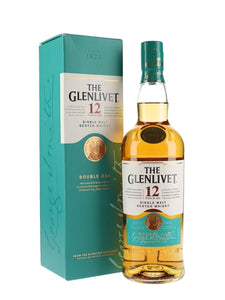 The Glenlivet 12 Years Single Malt
Made using a blend of malted barley, water, and yeast, which are fermented, distilled, and aged in oak casks for a minimum of 12 years.

It has a golden color and a smooth and mellow aroma of fruits, including apples and pears, along with a subtle hint of vanilla and spice. On the palate, it has a rich and complex flavour profile with notes of honey, caramel, and a hint of citrus. The whisky has a medium body and a velvety texture, with a slightly sweet finish and a touch of smokiness. It has a well-balanced and refined character, with a good balance between sweetness and smokiness.
A versatile whisky that can be enjoyed on its own or used in a variety of cocktails.
Best served neat or on the rocks to allow the full flavour profile to develop.
---