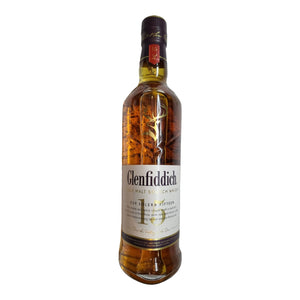 Glenfiddich 15 Years
Glenfiddich 15 Years is a single malt Scotch whisky produced by the Glenfiddich distillery in Speyside, Scotland. It is aged for 15 years in American bourbon barrels and Spanish sherry casks before being bottled.

It has a deep golden color and an aroma of honey, vanilla, and fruit, with hints of cinnamon and oak. On the palate, it has a smooth and creamy texture with flavours of caramel, toffee, and dried fruit, along with a subtle spiciness and a touch of smoke. The finish is long and warming, with notes of oak and sherry. It has a complex and well-balanced character, with a good balance between sweetness and spiciness.
Glenfiddich 15 Years is best enjoyed neat or on the rocks, and it pairs well with dark chocolate or rich desserts.
---