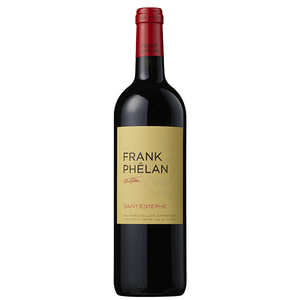 Franck Phelan, Saint-Estephe 2015
Franck Phélan is a red wine from the Saint-Estèphe appellation in the Bordeaux region of France. The wine is named after the Irishman who first acquired the property in the early 19th century.
The wine is typically made from a blend of Cabernet Sauvignon, Merlot, and Cabernet Franc grapes, with a smaller percentage of Petit Verdot. On the nose, Franck Phélan is characterized by aromas of black fruit such as blackcurrant, blackberry, and black cherry, along with notes of cedar, tobacco, and spice.
On the palate, the wine is full-bodied and rich, with flavors of dark fruit, vanilla, and toast. The tannins are firm and well-structured, providing a good backbone to the wine, while the acidity is well-balanced, giving it a refreshing finish.
Franck Phélan is a wine that can be enjoyed young, but also has the potential to age well for several years. With time in the bottle, the wine can develop even more complexity and depth, making it a great choice for collectors or those who enjoy cellaring wines.
---