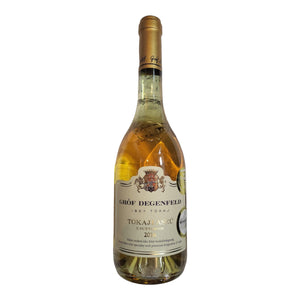 Degenfeld Tokaji 5 Puttonyos 2016
A sweet white wine from the Tokaj wine region of Hungary. It is made from the Furmint, Hárslevelű, and Muscat grapes, and is a blend of several vintages of grapes.
A deep golden color with amber reflections. On the nose, it displays a complex bouquet of dried fruits, such as apricot and fig, with hints of honey, caramel, and a touch of spice. On the palate, it is full-bodied with a rich and syrupy texture. The flavours of dried fruit, such as apricot and peach, are evident, complemented by notes of honey, vanilla, and a touch of oak. The wine has a well-balanced sweetness and acidity, with a long and persistent finish.
Enjoy as a dessert wine, paired with sweet treats such as fruit tarts, blue cheese, or foie gras.
---