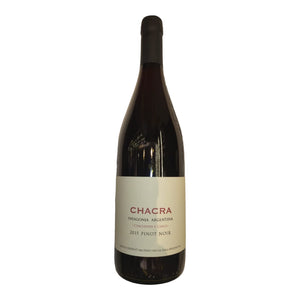 Chacra, Cincuenta y Cinco Pinot Noir 2015
Red fruits and earthy flavour profile
An Argentine wine produced by Chacra Winery, located in the Rio Negro Valley in Patagonia. It is made from 100% Pinot Noir grapes that are grown using biodynamic and organic farming methods.
It has a bright and clear ruby red color, with a complex aroma of ripe red fruits, such as cherries and raspberries, mixed with hints of spices, leather, and earthy notes. On the palate, it offers a silky texture, full-bodied structure, and flavors of red fruit, earthy minerals, and a touch of smokiness that lingers on the finish.
Aged for around 14 months in oak barrels, which helps to add complexity and depth to the wine's flavour profile. It is a sophisticated wine that can be paired with a variety of foods, including grilled meats, game, and rich pasta dishes.
---