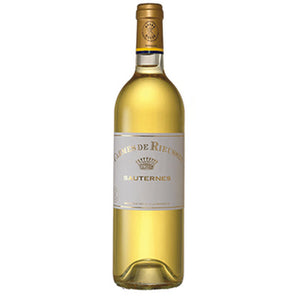 Carmes de Rieussec Sauternes 2018
Sweet and refreshing flavour profile
A type of French dessert wine that is produced in the Sauternes region of Bordeaux. It is made from a blend of Semillon, Sauvignon Blanc, and Muscadelle grapes that are affected by the noble rot, a fungus that concentrates the sugars and flavours in the grapes.
It has a deep golden color and a complex aroma of honey, apricot, and vanilla, with a hint of spice. On the palate, it is sweet and luscious, with flavours of honey, peach, and a touch of citrus, balanced by a refreshing acidity.
Aged for 18 months in oak barrels, which gives it a rich and complex flavour profile. It is a well-balanced wine that can be enjoyed on its own or as a pairing with a variety of desserts, including fruit tarts, crème brûlée, and blue cheese.
---