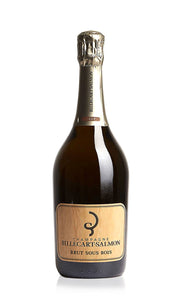 Billecart-Salmon Brut Sous Bois
Full-bodied and delicate flavour profile
Brut Sous Bois is a unique Champagne, aged in oak barrels rather than in stainless steel tanks, giving it a richer and more complex flavour profile. The wine is made from a blend of Chardonnay, Pinot Noir, and Pinot Meunier grapes, sourced from various vineyards in the region.

On the nose, it is characterised by aromas of toasted bread, nuts, and dried fruits, with hints of citrus and a touch of vanilla. On the palate, the wine is full-bodied, with a fine and persistent mousse, a lively acidity, and flavours of honey, caramel, and baked apple. The finish is long and complex, with a delicate balance between fruit and oak.

Pairs well with a wide range of foods, including seafood, poultry, and richer pasta dishes, and is also a great wine to enjoy on its own as an aperitif or with a cheese course.
---