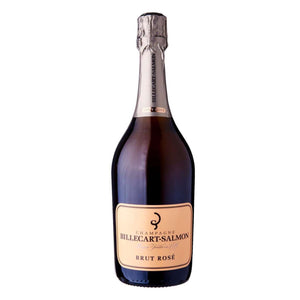 Billecart-Salmon Brut Rosé Champagne N.V
Red fruits and creamy flavour profile
Made from a blend of Chardonnay, Pinot Noir, and Pinot Meunier grapes, with a portion of the Pinot Noir as a red wine to give the wine its signature pink color. The wine is aged for at least three years on its lees, which gives it a rich and creamy texture and complex flavour profile.

On the nose, it is characterised by aromas of red fruits, such as strawberries and raspberries, with hints of citrus and a touch of minerality. On the palate, the wine is medium-bodied, with a fine and persistent mousse, a lively acidity, and flavours of red fruits and a hint of spice. The finish is long and elegant, with a delicate balance between fruit and mineral.

Pairs well with a wide range of foods, including seafood, poultry, and light pasta dishes, and is also a great wine to enjoy on its own as an aperitif.
---