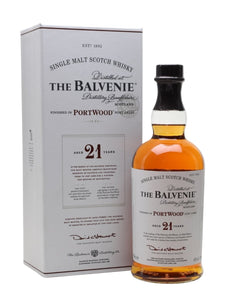 Balvenie 21 Years PortWood
Rich and full-bodied flavour profile

A single malt Scotch whisky from the Balvenie Distillery, located in Dufftown, Scotland. It is matured for 21 years, with the final few months spent in port wine casks, which gives it a distinctive flavour.

Balvenie 21 Years PortWood has a deep amber color and an aroma of ripe fruits, honey, and spices, with notes of cinnamon and ginger. On the palate, it is rich and full-bodied, with flavors of dark chocolate, caramel, and dried fruit, along with hints of port wine and oak. The finish is long and warming, with a sweet and spicy aftertaste.

This whisky is considered to be a luxurious and indulgent expression of the Balvenie range, and it is highly regarded by whisky enthusiasts. The port wine cask finish adds a rich and fruity note to the traditional Balvenie flavor profile, resulting in a complex and flavorful whisky.
Best enjoyed neat or with a few drops of water to release its full flavour. It is also a good choice to pair with dark chocolate or rich desserts.
---