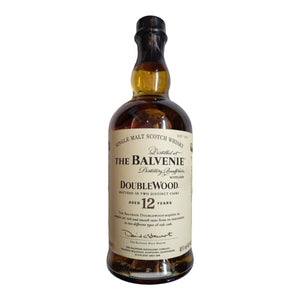 Balvenie 12 Years Double Wood
Approachable and easy flavour profile
A single malt Scotch whisky from the Balvenie Distillery, located in Dufftown, Scotland. It is matured for 12 years, first in traditional American oak casks, and then in European oak sherry casks, which gives it a distinctive flavour.
It has a rich golden color and an aroma of sweet fruit, vanilla, and oak. On the palate, it is smooth and creamy, with flavours of honey, vanilla, and toffee, along with hints of spices and dried fruits. The finish is long and warming, with a slight nuttiness.
It is considered a classic Speyside single malt, and it is highly regarded by whisky enthusiasts.
It is a good introduction to the Balvenie range and to the world of single malt whiskies in general, as it is approachable and easy to drink, yet still complex and flavourful. Balvenie 12 Years Double Wood is best enjoyed neat or with a few drops of water to release its full flavour.
---