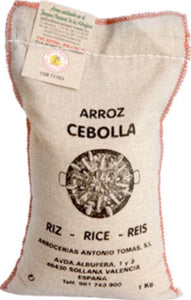 Arroz Cebolla Paella Rice
A short-grain rice that is known for its ability to absorb flavours well and for its slightly sticky texture when cooked.
Arroz Cebolla Paella Rice is typically grown in the Valencia region of Spain, where paella originated. It is a type of rice that is low in amylose, which is a type of starch that makes rice grains remain separate when cooked. This makes Arroz Cebolla Paella Rice ideal for making dishes like paella, where a slightly sticky texture is desirable.
When cooked, Arroz Cebolla Paella Rice has a slightly nutty flavor and a tender texture.
It is typically used in dishes such as paella, which is a one-pot meal that typically includes rice, seafood, chicken, and vegetables. However, Arroz Cebolla Paella Rice can also be used in other Spanish dishes, such as arroz con pollo (rice with chicken) or arroz negro (black rice).
---