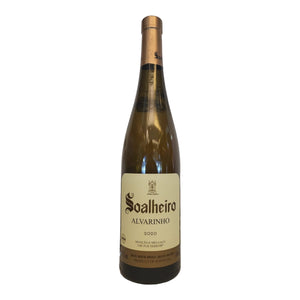 Alvarinho Soalheiro 2020
Tropical fruits and refreshing flavour profile
A white wine produced by the Soalheiro winery, located in the Vinho Verde region of Portugal. It is made from 100% Alvarinho grapes, which are grown in the Monção and Melgaço sub-regions, known for producing some of the finest Alvarinho wines in Portugal.

The wine is produced using sustainable farming practices, with the grapes harvested by hand and carefully sorted before undergoing gentle pressing and fermentation in stainless steel tanks, with no oak aging.

It has a pale yellow color, with aromas of ripe tropical fruit, such as pineapple, passionfruit, and citrus, along with a subtle mineral and floral notes. On the palate, the wine is dry and crisp, with flavours of green apple, lime, and a hint of salinity. The acidity is high, providing freshness and balance to the wine, with a long and refreshing finish.

Pair with seafood, salads, and light dishes, or for enjoying on its own as a refreshing and elegant wine.
---