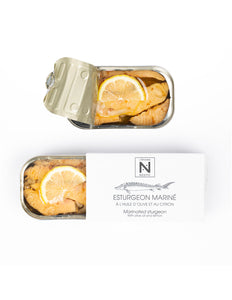 Caviar de Neuvic Sturgeon Fillet in Olive Oil and Lemon
Made from the fillet of sturgeon, prized for its meat and caviar. It is covered in a flavorful marinade of olive oil and lemon, which gives it a bright and refreshing flavour. The fillet has a firm and meaty texture, with a delicate and buttery flavour that is characteristic of high-quality sturgeon.
Made from sturgeon that are sustainably farmed in the clear and clean waters of France. The fillets are carefully selected and processed using traditional techniques that help to preserve their delicate flavour and texture.
A versatile ingredient that can be used in a variety of ways. It is commonly served as an appetizer or as a topping for salads and crackers. It can also be used as an ingredient in a variety of dishes, including pasta and rice dishes.
---