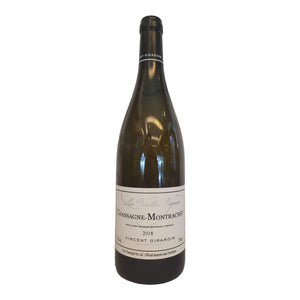 Vincent Girardin Chassagne Montrachet Vieilles Vignes Blanc 2020
Fresh and fruity flavour profile
Made from Chardonnay grapes grown on old vines that are over 40 years old. The wine is aged for about 12 months in French oak barrels, which gives it a subtle oak flavour and a creamy texture.

On the nose, this wine has aromas of lemon zest, green apple, and white flowers, with hints of vanilla and toast from the oak aging. On the palate, it is crisp and lively, with flavors of citrus, pear, and apricot, balanced by a rich and creamy texture. The finish is long and elegant, with a touch of mineral.

Best served chilled and pairs well with a variety of dishes, including seafood, poultry, and creamy pasta dishes. It can also be enjoyed on its own as an aperitif.
---