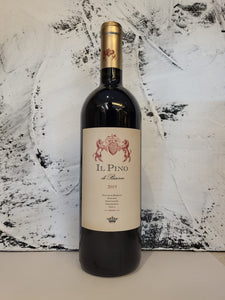 Tenuta di Biserno IL Pino 2019
Elegant and complex 

flavour profile

Made from a blend of Cabernet Franc, Cabernet Sauvignon, Merlot, and Petit Verdot grapes, which are grown in the Maremma region of Tuscany, Italy. The grapes are carefully selected and harvested by hand before being fermented in stainless steel tanks and aged in oak barrels for at least 18 months.

The wine is of deep ruby red color, with aromas of dark fruit, such as black cherry and blackberry, along with notes of vanilla, spice, and tobacco. On the palate, it is full-bodied and well-balanced, with a flavour profile that includes ripe dark fruit, chocolate, and a subtle hint of oak. The wine has firm tannins and a long and satisfying finish.

Pairs well with rich and hearty dishes, such as roasted red meat, lamb, or pasta dishes with a rich tomato sauce.

A luxurious wine that is perfect for special occasions or for anyone looking to indulge.
---