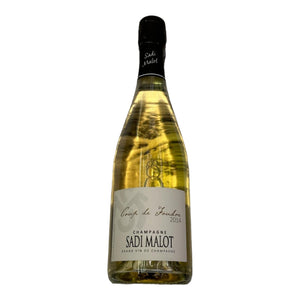 Sadi-Malot Blanc de Blanc 2014
Crisp and refreshing flavour profile

A vintage 2014 Chardonnay vinified from of a single parcel of very old vines in Villers-Marmery Premier Cru. Raise in large oak barres without any malolactic fermentation, thereby preserving a lot of the wine's freshness and bright acidity.
Aged for 6 year on fine lees before spending at least another 12 more months in bottle at the winery's cellars prior to its final release. Prominent core of bright citrus and quite floral on the nose with notes of citrus and almond blossoms.
More ripe citrus fruit flavours on the palate with a touch of herbaceouness, and lime zest scented cream that adds some complexity to the wine's rather long, mouth-watering finish.
---