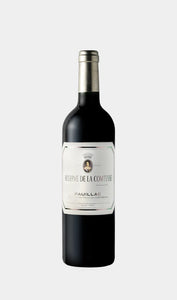 Reserve de la Comtesse 2016, Pauillac


Reserve de la Comtesse is the second wine of Chateau Pichon Longueville Comtesse de Lalande, a top winery located in the Pauillac appellation of Bordeaux. The wine is made from a blend of Cabernet Sauvignon, Merlot, and Cabernet Franc grapes and is typically aged for 12 months in oak barrels. Here are some tasting notes for Reserve de la Comtesse, Pauillac:
Appearance: The wine has a deep, garnet color with purple hues in appearance, On the nose, there are aromas of blackcurrant, raspberry, and blackberry, as well as hints of vanilla, toast, and a touch of spice 
on the palate The wine is medium-bodied with firm tannins and a good acidity. Flavors of dark fruit dominate, with notes of chocolate, coffee, and a hint of tobacco. The finish is long and elegant, with a touch of minerality.
---