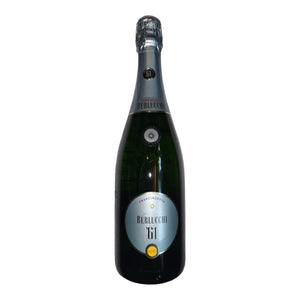 Guido Berlucchi 61 Franciacorta Saten NV
Creamy and smooth flavour profile
A sparkling wine produced in the Franciacorta region of Lombardy, Italy, using the traditional method of producing sparkling wines. It is made from a blend of Chardonnay and Pinot Bianco grapes, which are grown in the vineyards of the region.

On the nose, it is characterised by aromas of green apple, citrus fruits, and floral notes, with a hint of brioche. On the palate, the wine is creamy and smooth, with a delicate mousse and flavours of ripe fruit, toasted nuts, and a hint of mineral. The finish is long and elegant, with a delicate balance between fruit and acidity.

Pairs well with a variety of foods, including seafood, poultry, and light pasta dishes. 
---