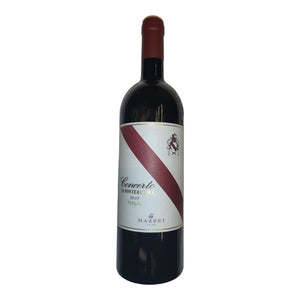 Fonterutoli, Chianti Classico 2018
Fruity and earthy flavour profile
Made from a blend of Sangiovese, Malvasia Nera, and Colorino grapes, which are grown in the Chianti region of Tuscany, Italy. The grapes are carefully selected and harvested by hand before being fermented in stainless steel tanks and aged in oak barrels for at least 12 months.
Wine is of deep ruby red colour, with aromas of ripe dark fruit, such as black cherry and plum, along with hints of spices and herbs, such as cinnamon, cloves, and thyme. On the palate, Fonterutoli Chianti Classico 2018 is medium-bodied and well-balanced, with a complex flavour profile that includes ripe dark fruit, earthy undertones, and a subtle hint of oak. The wine has firm tannins and a long and satisfying finish.
Pairs well with a variety of Italian dishes, such as roasted meats, pasta dishes with tomato sauce, or pizza.
A delicious and approachable wine that is perfect for casual meals or for anyone looking for a high-quality Italian red wine that is fruity, earthy, and satisfying.
---