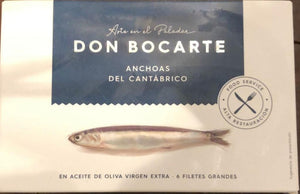 Don Boncarte Cantabrian Anchovies in Extra Virgin Olive Oil 100g 6 Fillets
These anchovies are sourced from the Cantabrian Sea in northern Spain, which is known for its rich and flavourful seafood. Packed with extra virgin olive oil, which helps to preserve their delicate flavour and texture. The olive oil also adds a rich and fruity flavour to the anchovies, making them a delicious addition to salads, pizzas, and other dishes.
Best enjoyed with other Mediterranean ingredients that can complement their rich and flavourful taste.
Pair it with ripe tomatoes, fresh basil, and crusty bread to create a delicious and simple bruschetta. They can also be used to top a pizza along with fresh mozzarella, cherry tomatoes, and olives, or added to a salad with mixed greens, roasted red peppers, and a balsamic vinaigrette.
---