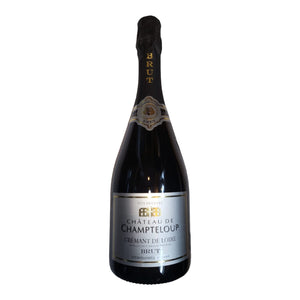 Cremant de Loire, Chateau Champteloup
Floral and clean flavour profile
A sparkling wine made in the Loire Valley region of France, using the traditional method of producing sparkling wines. 
On the nose, it is characterised by aromas of green apple, citrus fruits, and floral notes, with a hint of biscuit. On the palate, the wine is light-bodied and refreshing, with a lively acidity and flavours of apple, pear, and a touch of mineral. The finish is clean and crisp, with a delicate balance between fruit and acidity.
Perfect for celebrations or as an aperitif.
Pairs well with a variety of foods, including light seafood dishes, salads, and light pasta dishes.
A great example of high-quality sparkling wines that can be produced in the Loire Valley which offers excellent value for its price.
---